from the indian origins...
The oldest ears of popcorn were discovered in a bat cave of New Mexico. There are about 4.000 years old.
Maize was so important for pre-colombian tribes that Mayas used to praise the maize God named YUM KAAX
...To a worldwide fame
After its discovery, popcorn became very popular in the 1800s led to the widespread planting of maize. In 1885, Charles Cretors invents the first popcorn machine in Chicago and popcorn appears in Theatres and Cinemas.
The first popcorn cultivated in Europe
In the 90's, Nataïs, a company specialized in popcorn, started cultivating in the SOUTH WEST OF FRANCE. This area combines the perfect conditions: a temperate climate and plenty of sunshine.
A few years later, Nataïs takes up a new challenge, to cultivate organic popcorn with a group of organic farmers.
By their efforts, South West of France is today the MOST IMPORTANT POPCORN CULTIVATING AREA IN EUROPE.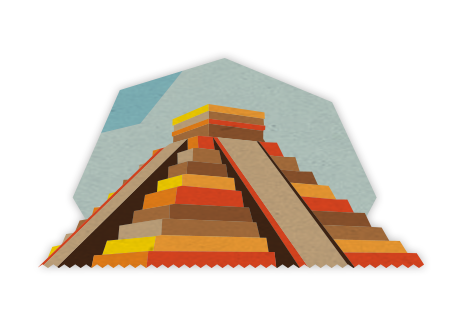 TEMPLE OF KUKULKAN
Chichen Itza site, Mexican state of Yucatàn
all natural ingredients